WHAT IS THE HERO ROUND TABLE?

Often called the TED Talks of heroism, the Hero Round Table teaches people how to be more than a bystander. From our humble beginnings in Michigan to our global series on three continents and counting, we've already seen attendees go on to do amazing things.

Most importantly, the Hero Round Table has created a worldwide community dedicated to practicing heroism. We have spurred academic research on what makes people do heroic things, and we help regular people act on what we've learned. (quoted from the Hero Round Table website)
I have a very distinct honor coming up in October. I get to be one of 21 presenters for the Hero Round Table in Michigan. I will be discussing how the martial arts helps create your Hero! These Heroes take on the daily challenge of life.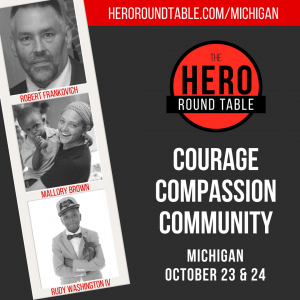 Feel free to contact me with any questions. You can use the contact form below. If you are interested in attending, please follow the link here – http://heroroundtable.com/michigan