White Tiger Ramblings: Thoughts While Traveling The Path (volume 1 & 2)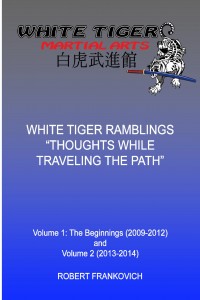 I've had several people recently ask about the past blog posts for White Tiger Ramblings, so I put together the first volume.
This book contains the posts from the beginning of the blog in 2009 until December 2013.
The paperback price is set by the publishing house, which also determines the Kindle price.
You can find the Kindle version here.
As you read and enjoy the posts on this site, please consider "sharing" them! The "likes" help generate additional readership but "sharing" will help even more! Thank you for your assistance!
If you have questions, please feel free to contact me!