Do you practice the most important part of your martial art(s) daily? Do you know what that part is?
Over my 35 years of martial arts training, I've had several teachers from several martial arts tell me that the physical techniques are only 10% of the art. So what is in the other 90%?
We have heard forever how the martial arts builds discipline, focus, control and esteem. What we haven't heard is how that is applied outside of class. I think many people presume that all of these characteristics will automatically be put into effect by every student.
Now, here's a thought for you…
Is your martial arts class something you just go to a couple times per week? I mean, do you schedule and show up to move around for a while, then never think about it until the calendar tells you that it is time another class? Do you think about the lesson plan after class? Have you examined the points made within that lesson plan? If you answered "no" to any of these, then you are probably only playing and not really developing into a martial artist. Sorry.
But let's go back to the common benefits that are regularly listed to help illustrate this. In class, when you line up at the start and end, you are standing at ready in the proper stance without rocking back and forth nor fiddling with your belt/uniform nor with your ankles crossed and arms folded. If you are achieving this, you are developing discipline. These are actions that you CHOOSE to perform out of respect for your teacher, peers, school and the martial art as a sign of respect.
Now, this is a very intellectual example of discipline. A more active version would be to work in the drills and exercises that are assigned with complete commitment to the work requested. Illustrating your discipline here can be shown in doing the drills as prescribed by the teacher, not the way you think it should be done (that is for your training outside of class). Here's a good example from a movie –
Everything IS martial arts! If you only look at what you're doing, you won't see the rest of the lesson…and the lesson doesn't end when class is over.
If you are in class and following directions, working on the material, trying to be better than you were in the last class…why aren't you doing the same thing at home or in school? If you always work at doing your best, you will always be your best. You don't have to like the topic, assignment, drill but that is what you are doing right now, so do it completely right now. There is no past nor future, there is only right now.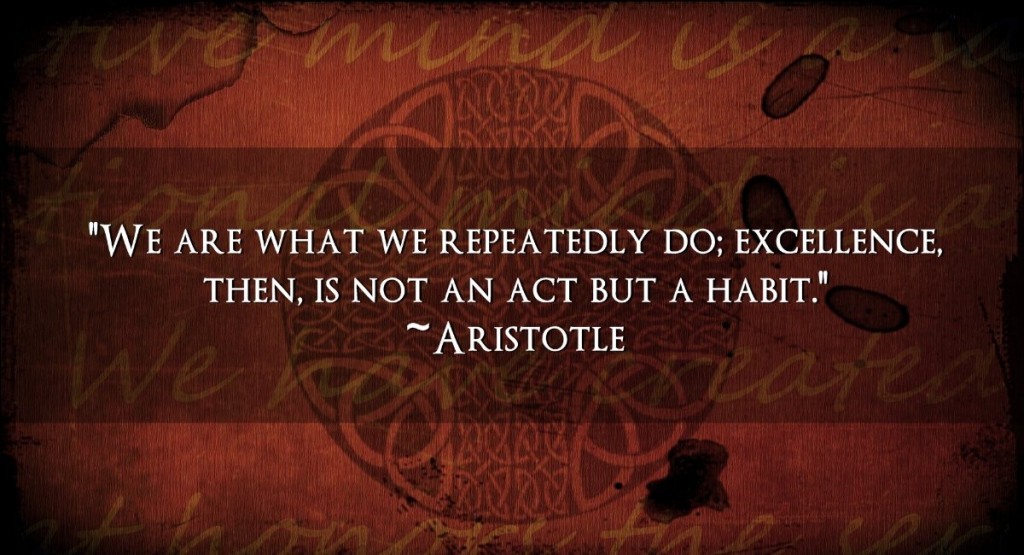 If you desire to be excellent at anything, choose to be excellent in everything you do. Never be "mostly", "close", "kind of" as they are levels below what you want to be. Make applying the habits part of everything outside of your class and success will happen in all that you work toward.
Please comment, like and share this (and my other posts) if you have found it worthwhile. You can also subscribe to get post updates via email with the form below. Thank you!
[jetpack_subscription_form]
As you read and enjoy the posts on this site, please consider "sharing" them! The "likes" help generate additional readership but "sharing" will help even more! Thank you for your assistance!
If you have questions, please feel free to contact me!