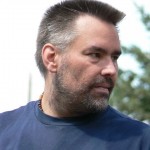 Recently changes have occurred in a curriculum that I teach. Now these changes were not something I initiated but they've got students agitated. It has made me think about why people train.
Personally, my training started because I saw the old Kung Fu TV show. After seeing the portrayal of discipline and control…along with cool fight scenes (for the time), made me KNOW that I needed to train. I had no idea of any martial arts, where classes were, how to find them…nothing.
Finally, as a college freshman, I found a community education "karate" class. Once I started training, I found that there were many other schools around…if you knew where to look.
Looking back at this, I really had no "reason" for training. Most people have an initial reason they start..be it fitness, self defense, socializing and others. All of these are a good place to start. As you continue to train, the question needs to be asked again. More knowledge, experience and growth will change the reason for training.  Changes, such as that in curriculum, are obvious times to examine that reason.
So does rank matter? How about trophies? So, why do YOU train today?
As you read and enjoy the posts on this site, please consider "sharing" them! The "likes" help generate additional readership but "sharing" will help even more! Thank you for your assistance!
If you have questions, please feel free to contact me!