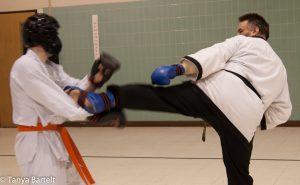 As life happens, one of the things that comes up is "What do I do next?" Work has been frustrating. Social life/relationship isn't going where you hoped. These are frustrating but they are talked about regularly, at least in my classes, from a slightly different viewpoint.
In class, we talk about the different sparring style (charger, counter-fighter, runner – your mileage may vary 🙂 ). This classification helps students recognize what their sparring opponent may do because of their actions. Understanding what an opponent may do is important in keeping control of a sparring match. It is even more important in life.
Before I go to daily life application, let's look at another analogy. Playing without the puck is an important factor in ice hockey. How do you play without the puck? On the offensive side, this includes looking for the proper place to set up for a good shot…or an opening to get a pass as part of a play that you see developing.
Playing without the puck on the defensive side is illustrated by getting into positions where the opponents can't run their plays. This includes something as simple as a defenseman putting his stick against the goalpost instead of going after the opposing player. Making sure the goal isn't scored is more important than checking the opponent.
Now, the trick is to determine which side you are on during your work and/or daily life interactions. Do you choose to find a way to get your way or set yourself up to make sure that you aren't taken advantage of. This is completely dependent upon which attitude you take during sparring or when you're playing without the puck.
**Note: I'll agree that this could be done with basketball and playing without the ball but I like hockey better so there's that.**
As you read and enjoy the posts on this site, please consider "sharing" them! The "likes" help generate additional readership but "sharing" will help even more! Thank you for your assistance!
If you have questions, please feel free to contact me!