"I am fortunate to take one philosophy student a year and have them assist in an intro class after they have gone through our curriculum. Eye opening, always. The class is not a thing you do, it's an environment of possibilities." – Timothy Stock, Philosophy Professor.
What struck me most was the last sentence. He had written this in response to another post that I made about knowing what you are doing. There are two parts to this. The first is that too many people view their training as going to a class where they enjoy some physical activity and socialization. I saw this posted by a fitness center's Facebook page.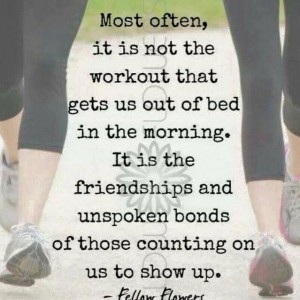 This kind of sounded good, at first, but I think the message misses the point of why you should be training…or anything.
Yes, the unspoken bonds are important. They are probably even more evident with true martial artists. That camaraderie runs deeply with those who are developing skills that protect family, friends and community. That said, I don't think many of them get out of bed in the morning because they get to see their buddies.
This is viewed in athletics as well. How many hockey players were up before dawn to be on the ice for morning practice? This is before they go to school all day, then go back for afternoon/evening practice and homework. Probably the most striking version of this comes from the military academy athletes. They start at 5:30 am and finish with lights out at Midnight.
They don't do this because they see their buddies. It is because their passion gives them the responsibility of being there to complete their duties and assignments. They find strength in having their buddies there but that's not a requirement. They would do the work anyway.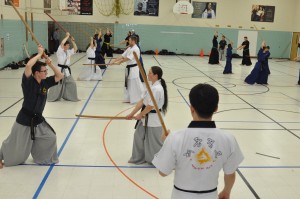 I wonder how many people attending martial arts classes truly see beyond the physical dance and socialization? Do they truly learn while there? Do they desire to find the knowledge that is available? As Timothy stated, "…it's an environment of possibilities." but only if you choose to be there for yourself as part of benefiting the whole.
I have gained much  from the martial artists that I've been able to study under and train with. That support has helped me through spots of uncertainty and frustration. It is a great byproduct of learning with like-minded people. This leads to little things like why I call mine a "school" and not a gym or studio…and probably explains a lot about why I have a smaller student base.
As you read and enjoy the posts on this site, please consider "sharing" them! The "likes" help generate additional readership but "sharing" will help even more! Thank you for your assistance!
If you have questions, please feel free to contact me!