Helen Ryan writes in The Power of Letting Go of Fear about the adventure she had in trying to give her son a memorable 12th birthday.
She came up with an idea and ran with it. She used it to describe getting over the fear of doing new things that are beyond your current knowledge. One concept is that you will never know if you are good at something or how good you are at it, if you never try.
This illustrates the correlation to the message that is regularly presented in out Haidong Gumdo seminars. The U.S.A. Senior Chief Master Marshall Parnell has stated several times during training "We train to learn how to be courageous." When we put ourselves into uncomfortable situations, we learn how to push ourselves beyond the knowledge we currently have.
Overcoming the challenges presented by training permits the student to grow through acquiring additional knowledge and deeper understanding. This growth is happens because of the respect gained through the struggle and the confidence gained from the struggle. This becomes a continuous cycle of growth. Confidence leads to accepting greater challenges (of every variety), which leads to developing new skills or refining current ones, which leads to more success, which leads to greater confidence.
Train hard, keep learning and be COURAGEOUS!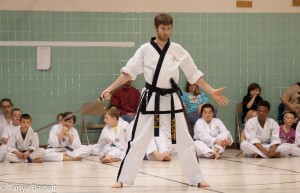 As you read and enjoy the posts on this site, please consider "sharing" them! The "likes" help generate additional readership but "sharing" will help even more! Thank you for your assistance!
If you have questions, please feel free to contact me!