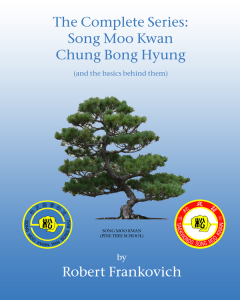 Today is the first official day that The Complete Chung Bong Hyungs: Song Moo Kwan Pan Song Ryu is available for sale!
Currently the paperback is only available but the Kindle version should be out by Monday!
This is the first time that all seven hyungs have been published. The book also includes basics and hyung specific techniques.
I'm very grateful to Master Tom Sullivan, Grand Master Tim Mullin, Grand Master Bill Miller, and Grand Master Vic Marotta for their input and support. Especially to Master Sullivan, though, as I would not have gotten this far without him and the Karate North organization.
Follow the link here, if you wish to order – The Complete Chung Bong Hyungs!
The Kindle version is here – The Complete Chung Bong Hyungs (Kindle)!
Seminars for learning the hyungs and their bunhae are available. Feel free to message me!
As you read and enjoy the posts on this site, please consider "sharing" them! The "likes" help generate additional readership but "sharing" will help even more! Thank you for your assistance!
If you have questions, please feel free to contact me!