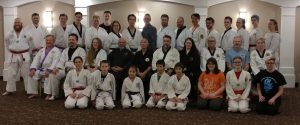 This is the end of an excellent day…weekend (3/17-3/18). I had the pleasure of hosting Grand Master Bill "Superfoot" Wallace while he was here for a seminar. His knowledge and experience makes him a highly valuable resource to supplement anyone's training.
The stories from his training, his fights, his movies, and his travels are entertaining and enlightening. Additionally, he is willing to chat and talk with everyone. His treatment of others and his humility are truly an example of what a role model is, to say nothing about what human being should be like.
Now I'm not one prone to much nostalgia. I don't spend much time reminiscing about all the glory days past. Since all of my youth was prior to the internet and Facebook, there are few pictures and such to call upon as reminders. Honestly, I'm good with leaving the memories as they are, whether I remember them correctly or not.
The timing of flights for Grand Master Wallace provided a rare opportunity. Not only did I get to participate in his seminar and have dinner with him but he also spent a few hours at the house waiting for his flight. It was wonderful! His stories and insights continued along with just quietly watching re-runs of NCIS on Netflix.
So, here's how the nostalgia came into play. It has been a long time since I've had a male elder around. I have many wonderful family plus great peers and students but it isn't the same. Just having these few hours brought back the realization of how long my Father has been gone. He passed away in 1983. I was 20 years old and still hadn't figured out what my life had in store. All of that time without him seeing my accomplishments or being able to ask him questions has probably had a great deal to do with why I tend to keep moving forward. I have been trying to figure out my direction for a long time. Continuing to move forward seems to help. Work hard, accept challenges (even when they are well over your head), support others are things, among many, that I learned from my Father. After 34 years, It would be a very interesting conversation to have with him about everything that has happened.
As you read and enjoy the posts on this site, please consider "sharing" them! The "likes" help generate additional readership but "sharing" will help even more! Thank you for your assistance!
If you have questions, please feel free to contact me!