Many of you know my "liking" of NCIS. Yeah, I would LOVE to be Gibbs and have everything written for me! That's beside the point, though, as enough happens within the show that sets examples for how role models should act.
That said, I'd like to show you an example of my world in Gibbs methodology.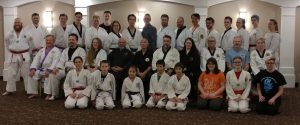 No matter has happened, I wouldn't want it any other way! I've worked for a long time on my martial arts journey. The directions have changed a couple times. I started with Taekwondo, which took me 10 years to start asking the right questions about what I was practicing, then I found Aikido. This was a place where my brain and body really worked together. It helped me understand what martial arts was truly about. My students have heard several times that, if I had found Aikido first, I may have never done Taekwondo. Yes, arts fit the personalities of those training in them. Well, I guess that it's good that I found Taekwondo first because Aikido became a bit awkward after having both hips replaced…and finding Haidong Gumdo.
I've struggled through keeping a Taekwondo program growing as Aikido seemed to be difficult to "sell". The big change came from finding Haidong Gumdo because who doesn't like swords! The sword class grew quickly. The Aikido class was tough to grow with a floor without mats. Taekwondo leveled off to let me keep learning about it's history and lineage of where it came from. Well, then there were swords again! That was easier to "sell".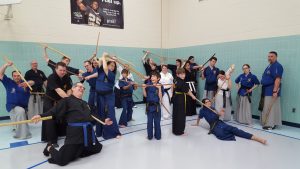 This is where I'm truly fortunate that my students understand the way that I use the word "sell". All of the Taekwondo and Haidong Gumdo students recognize the work I do and the work I am still doing. There is nothing that they don't see nor anything that they can't replace me in. All of my students have already surpassed me and I'm proud of that. I'm the face of this yet only because I'm too stubborn to be done.
No, I wouldn't have it any other way! Thank you ALL for the work you do and the growth that you've had!
As you read and enjoy the posts on this site, please consider "sharing" them! The "likes" help generate additional readership but "sharing" will help even more! Thank you for your assistance!
If you have questions, please feel free to contact me!