Pregnant Martial Artist
When I became pregnant in December 2018, it never occurred to me to quit martial arts. Why would I quit? I've been doing martial arts straight since the summer of 2013 with very few breaks. Pregnancy wasn't about to change that!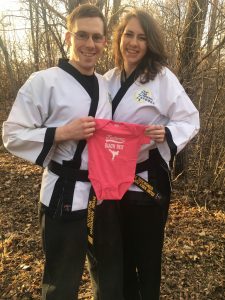 But there were times during my pregnancy where I took breaks. In January, when I was reeling from the nausea of the first trimester and my energy was so low it was all I could do to go to work, I took a break. I wasn't alone- the weather was bitterly cold and few of my fellow martial artists attended class. I returned in February and by March was working hard toward earning my 3rd Dan in Haidong Gumdo. My biggest concern while training was feeling short of breath. To cope, I kept my inhaler close at all times and took short rests if needed. Still, I was feeling healthy and fit, although my uniform became a bit snug! I even competed in a tournament in Brookings, SD, when I was five months pregnant.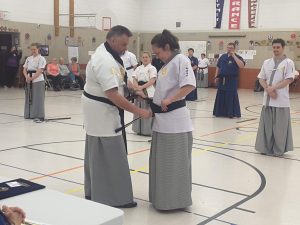 At the beginning of May, when I was six months pregnant, I tested for and earned my 3rd Dan rank. It was one of the highlights of my life. I was very proud of how I performed. After the testing was over, I reflected that my 2nd Dan testing had been more difficult. Perhaps because of my pregnancy, I was more cognizant of taking care of myself than I had been before.
After testing, I continued to train until the summer when my husband and I both decided to take a break from martial arts because of other things going on in our lives. It was one of the busiest summers of my life.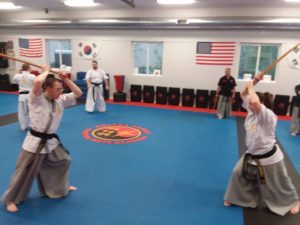 Since having my baby, I've only been back to class once. Continuing to train while having a newborn in the house is far more challenging than training while pregnant! But I fully intend to return to class by the end of the year. I'd say "when life settles down" but that's a myth adults tell ourselves. Truly, life will never settle down. If you want to accomplish something, you just have to dedicate the time to it. Discipline, perseverance, and a keen ability to juggle the demands of life will get me back on the mat soon!
As you read and enjoy the posts on this site, please consider "sharing" them! The "likes" help generate additional readership but "sharing" will help even more! Thank you for your assistance!
If you have questions, please feel free to contact me!