Back on November 7th & 8th, our regional group of USA Haidong Gumdo masters brought our schools together for the first time….kinda.
Many of us in the group have spent the past few years training with USA Senior Chief Master Marshall Parnell. His leadership and teaching has helped us develop greatly and create an outstanding student base of high quality talent. He provided the opportunity to let us develop an understanding of what qualities should be seen in serious students as he helped with our Dan promotions.
His insights have been quite beneficial in developing the required curriculum and his technique has lead to great improvements in ours. I'm grateful that we will have the opportunities to continue working with him.
That said, the significance of the weekend training is that our region has taken back the administrative functions and are managing the training/promotions. Master Parnell's trips will now be for "working hard at fun". It was an outstanding first event with 50 students and 6 (of our 9) masters.
We have developed a schedule of semi-annual training & testing plus quarterly tests that will be scheduled when and where as needed. This will help bridge the distances as we have masters near the Canadian border (yeah, that's still Minnesota) down to Nebraska.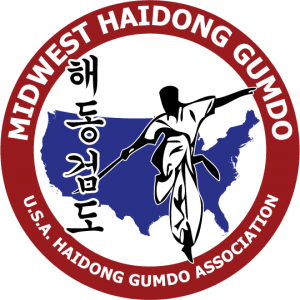 We also look forward to the opportunities to introduce Haidong Gumdo to other school owners and students. Please feel free to contact us for more information. You can find some on the regional website – www.hdgd-midwest.us
As you read and enjoy the posts on this site, please consider "sharing" them! The "likes" help generate additional readership but "sharing" will help even more! Thank you for your assistance!
If you have questions, please feel free to contact me!