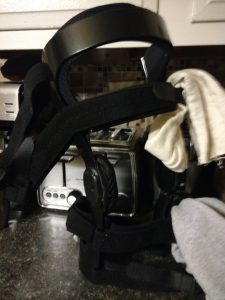 Tonight was Pine Tree Taekwondo's first sparring class in about six months. It was a good night. Everyone fought hard and worked on developing techniques, even adding new kicks to their strategy.
This was the first night that I've sparred since having to add a knee brace. The contraption pictured to the left is the new brace that I wear to keep up with everyone.
I had a good night sparring with all of my students. The whole range of students from orange belts to 2nd Dan black with ages ranging from 10 to 40+. It was much fun but…
It isn't much "fun", well that's a relative term. This sparring was productive. I had to re-think some of my sparring. The bio-mechanics of dynamic kicking and punching is much different now. Once I figure out how to tighten the straps of the brace, I'm hopeful that my kicking returns. the real issue is trusting the brace to handle the pivoting and dynamic movement of sparring.
This is important as my real thoughts about sparring are that it is a controlled fight (i.e. personal protection). We play nice together because we want our partners to come back to class next week, but we don't always play the "point fight" game as seen in tournaments. We decide with each sparring partner how much contact that round will have. Some like to bang on each other a little harder than others.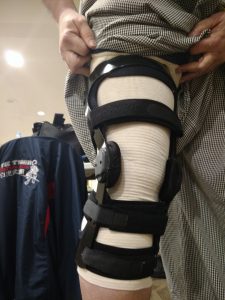 The title comes from conversation with Tanya after class. The chance to spar after several months of chaotic scheduling was a good thing. It also showed me how much better my students have gotten, even without sparring regularly. It also showed me how much I've slowed down. Trying to spar with teenagers and mid-20's is challenging. I'm glad that I've got a few sneaky things yet to use.
The addition of the brace has affected my movement in many things from balance to coordination. The changes require work to get movement as well as technique back. The way this will happen is by going back to basics. This will allow me to re-develop techniques to fit the new mobility. This is where I lost my "fast" and need to find it again.
As you read and enjoy the posts on this site, please consider "sharing" them! The "likes" help generate additional readership but "sharing" will help even more! Thank you for your assistance!
If you have questions, please feel free to contact me!