The caption in the left corner reads…
Individual medals won…
5 Gold
9 Silver
8 Bronze
(but there are still 6 medals unverified and not included on the list)
Best Dojang Award for best team performance
2 Mudo Spirit Awards (the swords) of demonstrating the spirit of Haidong Gumdo. These are not typically awarded.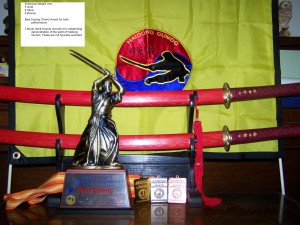 As you read and enjoy the posts on this site, please consider "sharing" them! The "likes" help generate additional readership but "sharing" will help even more! Thank you for your assistance!
If you have questions, please feel free to contact me!