Twice this year I have had the fortune of receiving awards. It is the second that is most humbling as it comes from a completely unexpected source.
I have been training in Song Moo Kwan Taekwondo for 35 years now. The first 10 years with the Karate North organization lead by Master Tom Sullivan. This wonderful organization taught me many things and gave me the opportunity to ask more questions.
This is where the next step of my training started. I started asking questions about my Song Moo Kwan lineage. The questions started with asking Grand Master Ro, Hee Sang about his father and the first training. This lead to an article in Inside Taekwondo magazine. That success prompted me to write about the Chung Bong Hyungs that I learned. They had been developed by Song Moo Kwan Grand Master Hyon, Jun Seon and taught to his students. These writing got published in Taekwondo Times magazine and Black Belt magazine.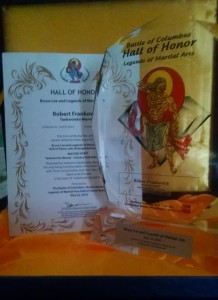 About a month ago, I received a call from Senior Grand Master Choi, Joon Pyo. It was eye-opening and scary. I had sent emails previously asking him questions, had connected with him on Facebook and LinkedIn but had never actually talked to him. The point of the call was to invite me to his event (Battle of Columbus) and join in the celebration of the inaugural Bruce Lee and Legends Hall of Honor awards presentation. This event was to have the special guest of Supreme Grand Master Ro, Byung Jick. He unfortunately took ill and couldn't attend but the event was incredible. The biggest surprise was having been included as an Honoree and being inducted into the Hall of Honor.
This award coming from a direct student of Supreme Grand Master Ro and the only Song Moo Kwan Master that Supreme Grand Master Ro has promoted to 10th Dan is beyond words. Senior Grand Master Choi has begun to reconnect with Song Moo Kwan masters and practitioners around the country and the world.
I will be working with Senior Grand Master Choi to help rebuild the roots of Song Moo Kwan. I still need to figure out how to connect with some of those out there but if you see this and wish to learn more about your Taekwondo lineage, please feel free to contact me. I am looking forward to the opportunity to learn and share our history.
As you read and enjoy the posts on this site, please consider "sharing" them! The "likes" help generate additional readership but "sharing" will help even more! Thank you for your assistance!
If you have questions, please feel free to contact me!