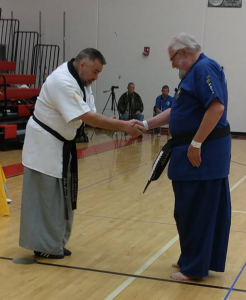 Do what Works
I was originally going to title this: "Don't try new things," But of course that would send the wrong message.
When I was a kitchen designer my biggest problem is that I didn't want to do things the same way. If I found a good way to solve a design problem, I would use it once or twice and try something new. Most often this resulted in failure. I coined a saying, "There are many new bad ideas, there are few new good ideas." Recently, it came back to me in Gumdo class. We were doing "Zombie drills," where a zombie would come at you doing straight cuts and you had to block or avoid them. I found a good way that worked for me and couldn't stick to it. Several of my classmates had the same issue, we would try something flashier after using a technique that worked. Master F. observed that "if it ain't broke, don't fix it."
Do techniques that work! I saw this in action at Northwoods Conquest, in the youth weapons division. The winner did Ssangsu 5 and 7 (sword forms) in combinaton and nailed it. Another competitor tried a mashup of a stationary cutting drill, a bit of one sword form and a couple moves from another form. He got lost somewhere along the way and quit. Another competitor tried to do Ssangsu 3, got lost somewhere in the middle and butchered the end. He used a kagum, metal training sword, for the put away and ended up grabbing the blade, had it been sharp there would have been literal butchery. Another student simply did a good Ssangsu 1 and earned a medal. He did what worked. In competition you need to stick with what works for you. Stretching your limits should be done in training, not in competition.
As you read and enjoy the posts on this site, please consider "sharing" them! The "likes" help generate additional readership but "sharing" will help even more! Thank you for your assistance!
If you have questions, please feel free to contact me!