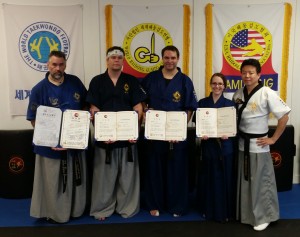 I recently had the fortune to test for and be promoted to 4th Dan (Sadan) in Haidong Gumdo, a Korean sword martial art. It was a tough road. As I am the senior student of all Haidong Gumdo in Minnesota, training has been difficult as frustrating. When you get to train with your teacher (as he lives in Seoul, South Korea) and the senior master in the USA Haidong Gumdo Association (from Utah) only a few days per year, the training that you think you are doing well can end up quite different from where you are supposed to be heading. After getting what I've called the "disgusted parent look" from Kwanjangnim Jeong Woo Kim during the preceding two training sessions (each was six months apart) for not being ready. I had to re-think my training to be prepared.
Now, I'm not sure which happened first but I figured out how to get the extra help. It goes a little like this…while watching (my guilty pleasure) The Voice, I had the realization of how many songs the band can play. The other week it ranged from from country (Carrie Underwood) to oldies (Gladys Knight) to pop (Beyoncé). This week it included creating new arrangements for songs to better fit the performer.
We often see highlight films of outstanding athletic performances, but there are many other illustrations of great quality and highly talented people. It is very likely that the Paul Merkovich band (The Voice's band) could be headliners in their own tour but they put all of that talent into helping other develop their skills. There is much humility within that band to allow them to work hard for a 15 year old.
Here's where the recognition of the help I get comes in. I truly do have excellent teachers as mentioned above plus those in my Song Moo Kwan Taekwondo lineage. They are the ones directly behind me providing curriculum, knowledge, understanding and support. They hold a very important position in my success and development. There is another group, though, that has almost as much affect on me. This group teaches and supports but isn't behind me. They are in front of me. My teachers help push me through my development, while my students help pull me through it.


Don't lose sight of the importance of this group. Your are good because of who is behind and in front of you. This means that they are more than just students. They are family.
As you read and enjoy the posts on this site, please consider "sharing" them! The "likes" help generate additional readership but "sharing" will help even more! Thank you for your assistance!
If you have questions, please feel free to contact me!