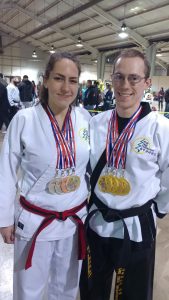 Brooklyn Center residents, Mark and Sarah Wurdeman, placed first and/or second in every event that they competed in during the Arnold Sports Festival 2018 held in Columbus, OH.
The international event hosted several hundred competitors in over 40 martial arts divisions. Mark and Sarah, students in Taekwondo (Korean Karate) and Haidong Gumdo (Korean sword) at White Tiger Martial Arts, headquartered in Fridley. Both are senior students and instructors there.
Mark placed first in all four divisions that he competed – Tang Soo Do forms, Traditional Taekwondo forms, Weapons and Target cutting. Sarah had the misfortune of competing against Mark in three of the four divisions and against black belt ladies in another. Sarah will test for her black belt in Taekwondo in May 2018.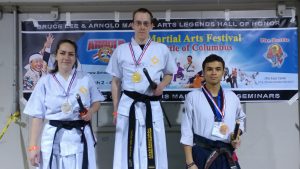 White Tiger Martial Arts focuses on the personal development of each student and uses tournaments as a way to challenge knowledge/understanding plus provide an opportunity to spend time with like-minded martial artists.
For more information about where Mark and Sarah train, please check the website – wtma-mn.com. Thank you.
As you read and enjoy the posts on this site, please consider "sharing" them! The "likes" help generate additional readership but "sharing" will help even more! Thank you for your assistance!
If you have questions, please feel free to contact me!