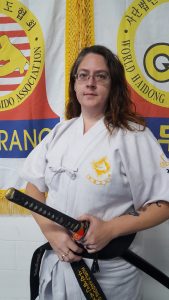 Tanya Bartelt
3rd Dan Pine Tree Taekwondo/World Song Moo Kwan United
2nd Dan WTMA Haidong Gumdo/USA Haidong Gumdo Association
Email Tanya
———–
Martial arts have been the hardest thing I have ever done, but it has been the best thing I have ever done for myself and my family!
Prior to September 2003 I had never given martial arts of any kind a second thought. However, I had a five year old son that believed he was a Teenage Mutant Ninja Turtle and I knew he needed proper training before he hurt himself! I called the two local karate listings in our phone book and the one that called me back got our business.
Three days per week I would take my son to the Little Dragons classes and watch him learn and grow and develop strength and confidence. I knew I wanted that, too, but I had this internal battle of "You're not good enough" going on. So, I continued to watch classes as my husband began training and, even, my daughter began.
Finally, in March 2007, I walked into the Head Instructor's office and, half expecting him to laugh me out the door, told him I was finally ready to try my first class. It was the most frightening moment of my life.
At the time, I weighed over 300 pounds and was constantly exhausted. I didn't know if I would make through a 45-minute class! But I wanted and knew I needed to experience the growth and develop the strength and confidence that I had watched my family gain.
When my training with Mr. Derek Reid at Professional Karate Studios – Cambridge began, I struggled through my first class but knew right away that this would change my life for the better! I quickly became a "Dojo Rat" and would attend as many classes as I could. Sometimes up to four classes per day!
I began to see in myself all of the growth and development that I had seen in my family. The pounds started coming off and that internal battle was finally conquered! In 2008, I became an Assistant Instructor teaching two nights per week with the Little Dragons and beginning color belts. Learning to teach a class was so far outside of my comfort zone but it was another part of my martial arts training that would prepare me for the challenges that life would have ahead for me.
When 2009 came it brought financial challenges, the loss of my mother to kidney failure and the loss of my husband in a car accident. Because of everything my martial arts training had taught me, I knew I had the strength to conquer these challenges, too. In May 2010, I earned my 1st Dan Black Belt and I continued to teach two nights per week including advanced colored belts.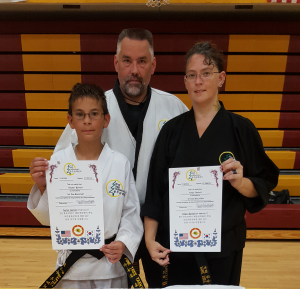 Since 1st Dan is just the beginning, I continued my training but was looking for a deeper understanding of both the history of my school and the applications of Taekwondo. As I was preparing for my 2nd Dan test, I was introduced to Master Robert Frankovich when he joined one of my classes as a guest. He shared some of the history I was longing to learn. I remained focused on my 2nd Dan training until I suffered a collapsed lung due to pulmonary embolisms. My test was put on hold while I spent many months recovering.
All four of my children were training at this point, so I continued to bring them to class and would help with teaching as much as my body would allow. As I sat and watched classes again, I noticed that my children and I needed a better understanding of applications. After a few conversations with Master Frankovich, it was decided that after my two oldest children had completed their 1st Dan testing, we would begin training with him at Pine Tree Taekwondo.
That change happened in September 2012. Then, in December 2012, we expanded our martial arts training under Master Frankovich to include Haidong Gumdo. He has also, recently, introduced us to Aikido. We have greatly enjoyed the challenges and rewards of learning different martial arts! I have learned so much and yet have so much more to learn! I look forward to continuing my training in multiple martial arts and sharing all that I have learned for as long as my mind and body will allow it.