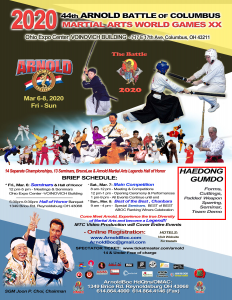 Haidong Gumdo will be featured at the 44th Arnold Battle of Columbus!
The event will be held on March 7, 2020.
You can find event divisions and rules here!
The event website will be updated shortly –  Arnold Battle of Columbus
As you read and enjoy the posts on this site, please consider "sharing" them! The "likes" help generate additional readership but "sharing" will help even more! Thank you for your assistance!
If you have questions, please feel free to contact me!