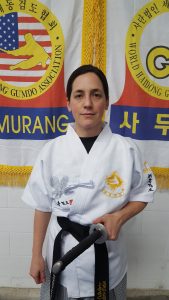 Nicole Winckler
4th Dan WTMA Haidong Gumdo//USA Haidong Gumdo Association
My martial arts journey started for me when I was 10 years old studying Kyukido under Master Hutson in IL for a couple years with my siblings. While I was in the Army serving in Korea in 2002, I took Taekwondo classes on base. In 2010 I was getting the itch to train again and found Master Frankovich in MN and started Haidong Gumdo, then Taekwondo shortly thereafter. I also was introduced to Aikido.  I discovered that I really loved sword arts (I think it is because I am interested in weaponry of all sorts) so I researched deeper and attended seminars in various Asian sword styles to learn as much as I possibly could about the different views on how the sword is employed. I became almost obsessed, attending every class that I was able to. Soon I was helping others in class and helping Master Frankovich with introductory Haidong Gumdo seminars.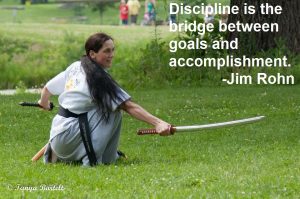 Martial arts study has provided several travel opportunities that I didn't think I was going to see again since I finished my military service. In 2012 I was back in Korea with team USA for the 6th World Haidong Gumdo Championships.  Nine from USA made it to the final round with two of us from Minnesota. I got 2nd place in those finals in my division in Bamboo cutting.  We also had an invitation to the 4th Mexico National Championships a few months later. Team USA placed 6th in the schools overall points. I placed 2nd in the Black belt Paper cutting and 1st in the Bamboo Cutting events.
The experiences I have gained studying martial arts has helped me grow immensely as a person. I have met so many great people and learned so much from them. They have helped me become stronger physically and mentally. I hope to be able to pass what I learned from those experiences down to the ones following me on this path.